30 May

Cheesy Goodies From Charelli's Cheese Shop

We recently dropped in to Charelli's Cheese Shop and Delicatessen and were so impressed by the selection here of cheese goods, meats and preserves. I was also surprised to find out that Charelli's caters for any event that you could imagine. They know better than anyone that their customers can't just buy one cheese. We were impressed to find out that they do gift packaging that we picked one up for ourselves.

The presentation of these cheeses is so immaculate that this is a perfect place to stop for a last minute cheese plate for your next dinner party. I really loved the stone that the cheeses were presented on because it added such a touch of class that brought this cheese plate to the next level.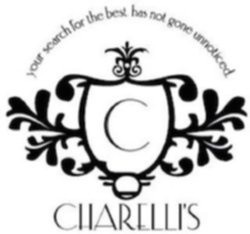 Let's get down to the good stuff! On our plate we had a nice variety of five different cheeses with some tasty dried fruit. First of all there was a generous slice of Camembert, which was amazingly creamy and delicious. Next there were some thicker cuts of Comte which is a french gruyere that was full of flavour. I think that this cheese won my vote as the favourite of this plate. Next to the Comte was a well-loved cheese for us, the paillot de chèvre which is a tasty round of goat cheese with a soft rind. We really enjoyed pairing this tart cheese with some of the sweet dried fruit on the plate. This one will definitely be a hit for all guests at your next dinner party. Finally we had two blue cheeses.
First there was the St. Azur which is extra creamy and is a good introduction to blue cheese for those who may be a little too shy for many veins of blue. This one is extra soft and perfectly spreadable on crackers or baguette. Last but not least, for your most adventurous guests, was the english Shropshire blue. This cheese is a deep orange colour riddled with tasty veins of blue. Unfortunately you have to return the stone from the cheese plate (but honestly who has the space to store this kind of thing in their kitchens anyway), but it is such a convenient gift or add-on to a dinner party or bridal shower.
You can even order full gift baskets with wine, perfect for a romantic picnic or evening in. Visit Online: Charellis Facebook: Charellis Cheese Twitter: @Charelli Phone: 250-598-4794 Email: info@charellis.com